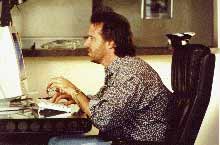 Derek Savage
Derek Savage writes novels, scripts, kid's books and music. His children's stories are, Cool Cat, Trolly the Trout, Best Buddies, Baby Cat and Bible Birdie; five series of books that depict good positive messages and teaches children in a fun and loving way. Derek also produces and directs movies,
Cool Cat Saves the Kids and Gun Self-Defense for Women.

Derek is in pre-production on the new Cool Cat film,
"Cool Cat Loves You!"
Derek gets asked how Cool Cat come to be. Back in his childhood Derek created Cool Cat as an imaginary friend and then brought the character to life by writing the books. Now Cool Cat brings happiness to kids worldwide and is a complete Brand of seven books, clothing line, and a feature film.

Derek's true passion is writing, producing, and creating stories. He is single and lives in Los Angeles.
--- BACK TO COOL CAT'S PAGE ---



Copyright © 2016 Derek Savage. All Rights Reserved.